Support GUI HTA
I wrote this support GUI for my employer. It allows 1st line support to perform a number of quick support actions from a simple GUI Interface. The code is HTA so HTML and VB Script together.
We use a hybrid profile system so the GUI allows the deletion of portions of the profile at the click of a button. (Eg. Delete Printer settings, Delete IE settings)
The program also records it own useage so that trends spotting can be performed.
The code is fairly specific to my current environment so will be of limited use to others , however some of the code may be handy so im posting the whole thing.
Screenshot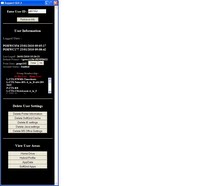 SupportGUI2.hta
Labels: Scripts