HTA - A pretty looking HTA to Edit Text files
This is a smart looking HTA template that can be used for most anything.
The one i post here is for editing text files. I used this as part of a solution to control
software with device licences. The tool manages the list of device names that are allowed
to access software like Word and Excel.
Screenshot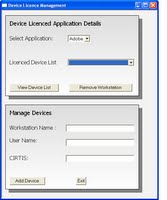 HTA File :
ManageLics.hta